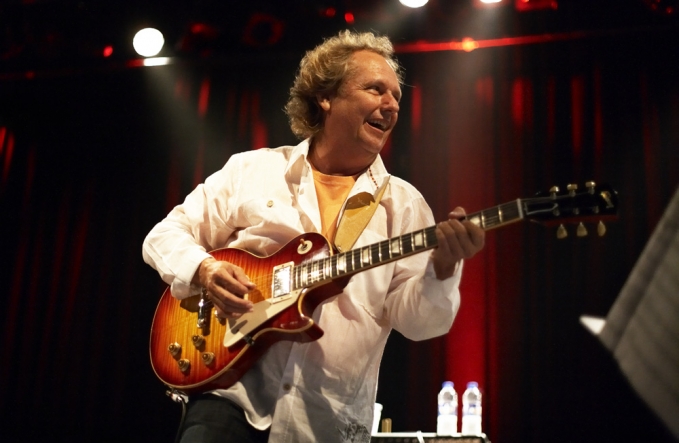 Lee Ritenour & Dave Grusin


Amager Bio, Copenhagen,




Tuesday 9 August 2011



Reviewed by Morten Buschmann
Photo: Steen Donsby



GAFFA: 5 stars





Captain Fingers and grandfather Gruisin mastered everything at your fingertips.




Funk, jazz, pop, Brazilian, reggae and various fusion in there from. For 59-year-old Lee Ritenour and 77-year-old Dave Gruisin's age within obstacle sublime to cast effortlessly and freely in most genres. Without losing a single swing. Well backed up by two African-American playful champions; Will Kennedy and Melvin Davis.



Lynblitz solo


In a near sold out Amager Bio is the four on stage, and although the audience expects funk quartet throws himself unabashedly into Gruisins latin composition "Punta Del Sol", stressing that Gruisin and Ritenour are deeply rooted in jazz.Gruisin explores the sounds of piano, Ritenour lynblizter up and down the fretboard. Older gentlemen never lose their craftsmanship. Skip to more samba, "Stone Flower" by Antonio Carlos Jobim, and again a ferment of Ritenour solo in a transparent acoustic guitar without sounding box, but damn, it sounds good.Swing, swing, always swinging, that's what Gruisin / Ritenour is particularly famous for, and drummer Will Kennedy supports and demonstrates the musical responsiveness of superior class. It's not for nothing that these three gentlemen are some of the most awarded and popular in the American world of smooth jazz.Well backed by Melvin Davis on 7-string (!) Bass.




Funk on the way


The audience enjoys and rejoice even more, to finally emerge råfunken up: "West Bound". A sylespidst precise groove with Ritenour on semi acoustic Gibson and his signaturlyd from the album "The Captain's Journey" (1978).Gruisin takes a solo, and surely he is not a Herbie Hancock, Chick Corea or other scale racers, but a chord, sound and groove, exploring, and on the way he sticks out as a pianist. One of the evening's best songs, where Ritenour with his game says that he also has cultivated one of the giants, the American guitarist Wes Montgomery.


Back to jazz
Hall of bubbles, but it is the team almost indifferent. They want to play pure unadulterated jazz in "Stolen Moments" and it is not wrong, not because Melvin Davis is charming hall with its Al Jarreau-like jazz scatsang. The band, any genre, even humor. So should we talk into the microphone, and Ritenour said he last year celebrated 50-year anniversary as a guitarist and Gruisin gained 12 Grammys and 1 Oscar for his film music, and have saved them all away in his basement. Superior or modest. Depending on temperament.
"Lay It Down" from Ritenours anniversary album "6 String Theory" (2010) is a bleak reggae in 6/8-dele, however, saved the country by Will Kennedy of musical solo, proving everything he has learned from being real man of the band Yellowjackets. And then it's time for Dave Gruisins solo on piano department. "A Child Is Born" by Thad Jones gave me goose bumps, similar to the tasteful and lyrical chord phrasings you have to look far for the industry, and it is clear why Gruisin is one of the world's most sought after film composers. In "Stella By Starlight" - without Ritenour - the trio plays with fast bebop, but it is risky for a man of 77 years. Allow others to sprint, Dave.




Danish singer on stage


Lee Ritenour has just produced the album "Touch" with the 29-year-old Danish girl wonder, Annekei, who now lives in America. She was also an excellent warming and must now sing Ivan Lins' bossa "Harlequin". The beautiful golden Dane is a little untested in bossaland but Gruisin supports, assists and involves Annakei and proves what gudbenådet accompanist he is. Bob Marley's "Get Up Stand Up" follows, but turned into a typical Ritenoursk funk / reggae in a new exciting chord extended event where Gruisin trumps with a dazzling synth solo with flute sound. Masterful. Another highlight for me. Annekei must also equal jazze and samples with little scatsangsolo, but she's too green to jazz. Lee "Captain Fingers" Ritenour is clearly excited and can hardly keep her ... fingers from the pretty blond Scandinavians.
The crown of fusion power plant is Ritenours gigahit "Rio Funk." Melvin Davis throws a slap bass solo in, so Larry Graham would be exceedingly proud of his pupil. Ritenour acknowledge with a blow finger guitar solo! On the whole band plays with funkschlageren and pushing it around in all sorts of fresh new directions, and it is quite an achievement, because that number has Lee played for all concerts in the last 32 years, but symptomatic of the concert: Play with music . And "Rio Funk" when underway indeed around in genres such as latin, funk and straight-out-of-the road rock!
The audience wants more Rit, and we must pass Ritenours smash hit, pop songs "Is It You" (1982). Here in the nice suits pop Annakeis popsødme nicely, but perhaps you should just practiced this hit with the Dane BEFORE the concert. All in all, a legend - almost perfect - concert.